Acerinox declares EUR 109 million more profit than in 2019
Cost control, the sound performance of the American subsidiary, NAS, and the integration of VDM made these profits possible   In a year marked by a global pandemic, Acerinox's turnover totalled EUR 4,668 million, just 2% lower than that of 2019. Melting shop production, 2,196,490 tonnes, decreased by 2% compared to the same period of the previous year.   In 2020 EBITDA, totalled EUR 384 million, an increase of 5% compared to 2019.   Profit before tax and minority interests totalled EUR 132 million, 5.7 times greater than in 2019 (EUR 23 million). Operating cash flow amounted to EUR 421 million.
In an especially complicated year due to the effects of the pandemic and the halting of activity in many sectors, in 2020 Acerinox recognised EBITDA of EUR 384 million (an increase of 5% compared to 2019), profit before taxes totalling EUR 132 million (5.7 times more than in 2019), and net profit after tax and minority interests amounting to EUR 49 million (EUR 109 million more than in 2019).
These profits were made possible thanks to the sound performance of North American Stainless, the American stainless steel factory, diversification through the acquisition of VDM Metals, business management and cost control in the stainless steel division (16%).
Worthy of note is the great cash flow generation, which totalled EUR 421 million and enabled the Group to pay out a cash dividend (EUR 135 million) and maintain investment payments in equipment amounting to EUR 101 million. At year-end the Group's debt amounted to EUR 278 million. Since March 2020, when debt increased by EUR 398 million as a result of the acquisition of VDM, this line item has reduced by EUR 82 million.
In the fourth quarter, the Group's production and turnover increased by 14% and 9%, respectively, compared to July-September, recognising a 50% increase in EBITDA. Furthermore, in December 2020 a dividend of EUR 135 million was paid, giving rise to a dividend yield of 7%.
Outlook
Recovery of the stainless steel market, which began in the middle of the fourth quarter, continues. The backlog in all our factories has improved. In the high performance alloys sector, an improvement is perceived and will materialise towards the end of the quarter. In this situation, we expect EBITDA in the first quarter to be slightly higher than in the fourth quarter.
Sustainability
In 2020 a specific Sustainability Committee was created within the Board of Directors. At the end of the year, a Sustainability Strategic Plan called 'Acerinox Positive Impact 360' was approved, with five pillars defined and specific lines of action established for each one.
The following 6 goals are being prioritised for 2030 (baseline 2015) in order to align the Group with the 15-year Sustainable Development Goals (SDGs) of the 2030 Agenda: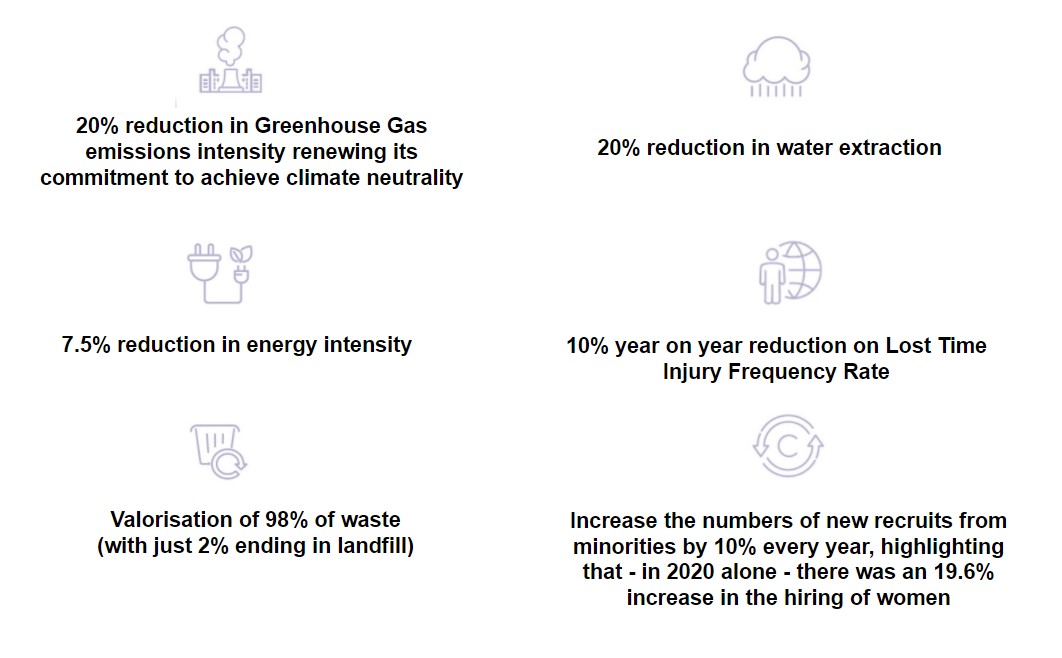 New Annual Integrated Report / Consolidated Management Report – Statement of Non-Financial Information
For the first time Acerinox presents an Annual Integrated Report / Consolidated Management Report - Statement of Non-Financial Information, which we invite you to read on our web www.acerinox.com, and includes the main challenges and opportunities of 2020, as well as comprehensive company documentation concerning Sustainability, Corporate Governance, employees, customers, suppliers and Social Action